We're here to be your advocate and partner throughout the home buying process. Our mission is to provide you with a seamless and enjoyable experience.
From leveraging the latest technology tools to assist in your home search to navigating local and legal ownership requirements, we'll get you through with integrity and collaboration. The more complicated parts of the process are where we excel. Let us share our expertise and passion for real estate with you.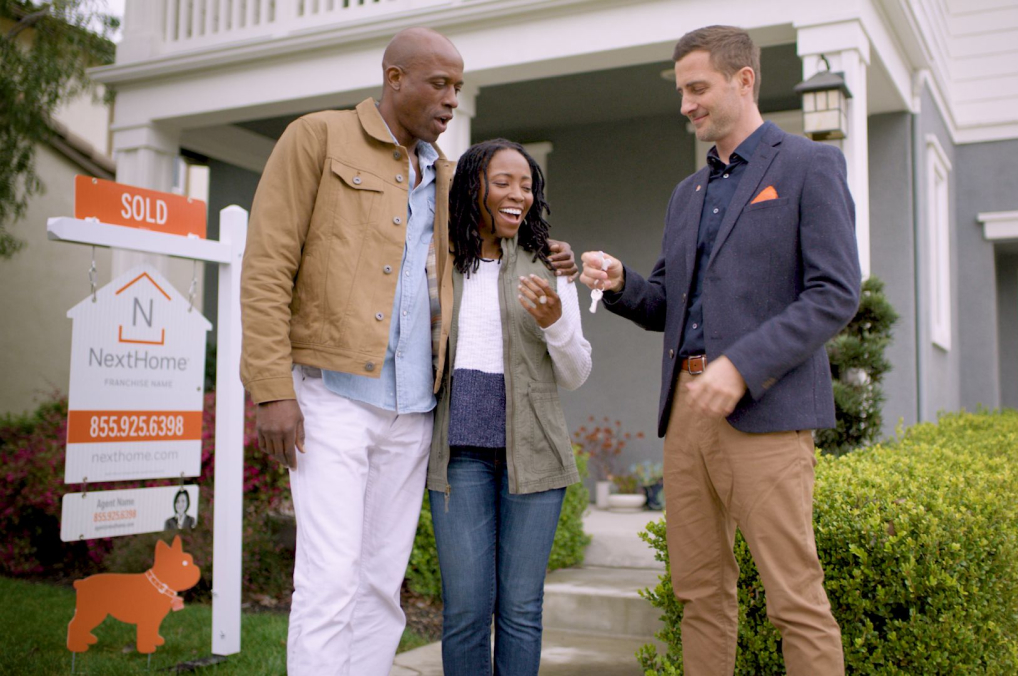 Buying a Home, the NextHome Way
Frequently Asked Questions about Buying Your Next Home
If you're anything like us, then we're sure that you have lots of questions when planning for such a large financial transaction as an upcoming home sale. So, we've compiled a list of the most commonly asked questions that we receive from sellers when they're beginning to plan for their sale. Asking the right questions will ensure that you are best prepared, and that you're working with a true professional.
Why work with a Buyer's Agent?
Great Buyer's Agents do more than just show you houses…any real estate agent with a license and an MLS membership will be able to accomplish that. However, NextHome agent will be an expert on the home buying process, knowledgeable of our local communities, familiar with our local real estate agents, highly responsive to your needs, available to assist you through an evaluation of available inventory, and a skilled negotiator ready to recommend the best steps to take in order to successfully purchase your NextHome…there's so much they will assist you with while also being at your disposal for any questions or concerns.
What services will a buyer's agent provide?
Here are just a few of the many services that a buyer's agent helps with:
Finding the right property – After assisting you with an evaluation of your property preferences, factoring in price range based on your financial pre-qualifications, a buyer's agent will provide recommendations of property types, neighborhoods and communities that may best fit your search criteria.

Negotiate the offer – A buyer's agent will also advise clients on an appropriate price to offer, based on a full evaluation of the property's condition and disclosure records, and present it to the seller's agent.

Recommend other professionals – Many times a buyer's agent acts more like a project manager. A huge value add from their service and experience is access to their preferred services networks which consist of reliable mortgage lenders, home inspectors, contractors, tradesmen, movers, and more.

Help overcome setbacks – Although a good buyer's agent will be able to help foresee many issues before they occur, no endeavor goes without its speed bumps…so, when repair issues from a home inspector's report or appraisal issues are caught by your lender, a buyer's agent will advise you on how to proceed, and then act as a buffer between you and the sellers or their agent.
What's the difference between a buyer's agent and a listing agent?
Buyer's agents are legally bound to help buyers, whereas listing agents—the agent representing the seller selling the home—have a fiduciary duty to represent the home seller. Although a listing agent can represent both a buyer and a seller in a transaction, this usually creates a conflict of interest for one of the parties…usually for the buyer since the listing agent has already established a fiduciary duty to the seller. This is why it's in the best interest as a buyer to get an agent who is there to represent them…and not working with the agent that is already contractually obligated to help the seller get the highest price for their home.
What will it cost to work with a Buyer's Agent?
There is usually no cost involved for a buyer to hire and work with a Buyer's Agent to find their NextHome. In most residential real estate purchase transactions, the real estate agent representing the buyer is paid a commission by the seller at closing. This means that traditionally there is no upfront cost to a homebuyer when working with a Buyer's Agent.
However, once in a while our agents may show homes that are either not yet on the market, or that are represented by sellers that do not pay cooperating agent commissions. In these special circumstances, a homebuyer may be required to pay a Buyer's Agent for their services should their contract require it. But these situations are very limited, and most likely your Buyer's Agent will receive their compensation directly from the seller at closing.
So the real question is what will it cost you NOT to work with a buyer's agent?
Should I buy or rent a home in Silicon Valley?
The financial and tax benefits of owning a home vs. renting are very clear. Homes typically increase in value, build equity and provide a nest egg for the future. Your costs are predictable and more stable than renting because they're ideally based on a fixed housing cost, rather than open to annual increases in rents. Plus, homeownership provides many benefits to the family, children and the community.
How do I purchase a home in Silicon Valley?
Buying a home in Silicon Valley is no easy venture. We happen to live in an area that is considered as one of the most expensive in the country as Silicon Valley is considered a global center for high-technology, social media and venture capital. Our neighbors include Google, Facebook, Apple, Adobe, Netflix, Nvidia, Intel, IMB, Cisco, eBay, and many more, so our local residents enjoy a booming local economy but face a shortage of available housing due to healthy employment centers and geographically growth restrictive landscapes.
At NextHome, we understand these challenges as our agents are local residents as well. Our services aim to strip the overwhelm from the process in order to deliver a clear strategy supported by real local knowledge and expertise. Whether our clients face restrictive budgets, commute times, or desire specific school districts, our agents are prepared and passionate about meeting your specific goals.
Should I get pre-approved for a mortgage before speaking with an agent?
Although the mortgage pre-approval process is a critical first step towards homeownership, we'd like to invite you to reach out to us as your very first action as we have vast local resources to assist you through the home purchase financing process which can be extremely stressful on its own. Not all lending sources offer the same interest rates or mortgage products, our agents can provide practical experience with helping you work with one or two reputable lenders that may be a better fit given your specific circumstances.
How do I take the next step and hire a buyer's agent?
Let's take the next step and schedule a consultation today so that one of our local experts can walk you through the rest of the purchase process, and help you get started today on the right path to homeownership. We can meet in person at our office location, at a local coffee shop, or virtually in order to get to know you and your home purchasing goals. Once we've discussed your ideal property criteria and locations, we'll be touring homes before you know it, even on the same day.
Testimonials
" Wajiha from NextHome Lifestyles is amazing! She is incredibly sweet, kind and patient and provided so much support for us as first time home buyers. She was very responsive with calls and emails, getting back to us within the hour even if it was fairly late in the evening. We spent about 5 months working with her and she was consistently amazing throughout the entire journey. We highly recommend her to others who are searching for a home in the bay area! "
- Barbara Chu
" Brad and his team have helped us through multiple transactions of selling and buying properties. He is honest, transparent and a great guide to making the best decisions. "
- Vishal Malakar
" Brad's team is great to work with. They understand your needs and help find you your dream home. He can also assist with finding home mortgage consultants to contractors. "
- Divya Gupta
" Brad and the team at NextHome Lifestyles do an EXCEPTIONAL job of focusing on their buyers and sellers needs! AMAZING service! "
- Kent Rodahaver
" We have just sold our home through Next Home Lifestyles and I highly recommend using them. The Brad Gill Team helped us through the process with ease and efficiency. Having lived in our home for forty-six years, selling it was a big decision to make. But knowing our senior years were upon us, we decided the timing was right and so we made the call to Brad. Our first appointment was impressive. Brad came with charts and numbers that were indicative of the market we were in and discussed his method of selling. He was upfront and gave us a timeline of what to expect and what we needed to do to make the sale a smooth one. Once we made the decision, his team all rose to the occasion. His aide, Mellyn, was cheerful, sensitive, and efficient as she worked with us through some of the details: staging, inspections, and appointments. His aide Melinda worked with us on disclosures and any legal matters that needed to be addressed. And Brad was always in the loop and ready to answer any questions we might have. Following his strategy and marketing blitz, our house sold within in a week of listing, having had multiple offers - far exceeding our listing price. While selling a house, especially one that is near and dear to you, can be a stressful process, The Brad Gill Team handled the process with ease, making our experience a positive one and one I would recommend to others. "
- Bev Luyet
" I would recommend Wajiha from Brad's team to anyone who is looking to buy a house. Wajiha has been super supportive in our really long and difficult house search. She has been super patient with us and guided us through out the process. She has stood by us every step of the way and given us the best advice and always with a smile on her face. I don't think we would be able to become home owners without her help. Thank You Wajiha for everything! "
- Aditi Rautela
" We worked with Wajiha who is super sweet and very professional. My husband and I are new in the process and Wajiha answered every small naive question of ours and made sure we covered all bases. Right from suggesting to scheduling home visits to also joining us for every house visit, Wajiha was very helpful. Also, she never was trying too hard to make us buy a home but was honest in the reviews that she gave about the houses we saw. She also helped us in finding good credit unions and also the contractors. Highly recommend for anyone trying to get a home. "
- Shweta Venkara
" Brad & his team were very thoughtful in their work & communication. The process of selling a home, especially one that you have genuinely invested your soul in is definitely one of the most stressful & emotionally exhausting things that you can do. Brad & his team were very mindful of this & patient with us. We were very much impressed of how well his team spoke of him & the work he does — I would highly recommend Brad to anyone who is seeking to sell their home or buy a new home! Great work! "
- Norma Veronica Contreras
" I was extremely fortunate to work with Wajiha from Brad's team at NextHome Lifestyles. She helped me purchase my first property and did an excellent job. I was originally referred to her, and she seamlessly helped me from start to finish. Being a first time buyer, it can be an intimidating process. However Wajiha constantly made the process super easy by guiding me step by step, providing expert feedback on the market as well as reliable contact info on network partners (lenders, contractors etc). She was very professional and responsive. I thoroughly enjoyed working with her and have no hesitation in recommending her to home buyers. She was fantastic! "
- Raahem Yazdani
" We met The Brad Team during an open house and within hours we got enough details that we were convinced to work with this team. Overall, the process went very well and received detailed information at regular intervals, including comps, market insights, regular listing updates and much more. My agent was very responsive and available even late in the evening to clarify any questions. My agent was very transparent and empathetic to a great extent. We also got some good references to help with few enhancements and the work is currently going well. "
- Mukesh Srivastava
" If your looking for a team of consummate experts with deep real estate knowledge, look no further than Next Home Lifestyles. As a forty year veteran agent myself, it's comforting to work with these professionals knowing it will be smooth, straight forward and no nonsense, a rare quality inn today's real estate landscape. "
- JR McKee
" Brad's team was a great experience to work with. Luckily when I started shopping around for homes I came into contact with Wajiha Tareen from Brad's team. From day one she was very responsive, on time and resourceful. She made my first time home buying experience very smooth and even helped me find movers. I would definitely recommend her to my others for the excellent service. "
- Susmita Mutsuddy
" Deciding to sell a home and who to choose as a realtor can be overwhelming. We interviewed a few potential realtors and it became clear which realtor to go with. Brad Gill came to our home, reviewed our situation, and presented his strategy. His presentation was clear, and we had seen very positive results for another home he had recently sold in our neighborhood. Major projects take work ; planning , implementation and follow through. Brad Gill Team excelled in all areas of the process. Like all successful teams it takes collaboration and execution from all members. Brad's team did a great job : • He brought in an expert designer to help us with preparation o Cost Effective Fixes / Tweaks that would really help the house show o Staging the Home to Look like a Model • Great Photos and Video Presentations Just look at the Online Video and Photos of our Home • Marketing Strategies Setting the right price to get maximum exposure and interest • Negotiating seems to be his expertise We learned what are the key components to consider in accepting any offer He made it easy for us , he explained what was going on, and we followed his recommendations • He has great team members to help things stay organized and take care of the Paperwork Paper Work ; oh yes lots of paper work , but his team made it easy But most of all his team does a great job of communicating and keeping things on track. During the whole process we felt like we were part of the team , and like any good team, we felt connected as we succeeded in achieving our goals. We highly recommend you consider Next Home Brad Gill team if you are considering selling your home. "
- Randall Edelmaier
" During this crazy time and trying to buy a house for my family I thought it would be a lot more stressful but Brad made this experience so easy and stress free. His team is thorough, informative and very professional. If you are looking to buy a home NextHome Lifestyles should be your go to! "
- Emily Miramontes
" Christine did a great job of following up with all prospective buyers. She was diligent at setting up open houses and greeting interested people, giving tours of the house and answering so many questions. We especially thank her for staying with the house while my son and I traveled to Southern California at 10am and the movers didn't leave until 2pm. It was very helpful to have an agent that knew our location well. I highly recommend her. Marlene Duffin "
- Marlene Duffin (client)
" Super great to work with in a selling transaction! "
- Madalen Closson
" We feel very lucky to have met Brad and his team, who were referred to us by our former realtor. Brad really worked with us based on our situation and budget to prep our property. Great knowledge, instinct and vision! Also a wonderful network of talented teams! The renovation, the staging and the promo video came out amazing! The property was sold within a week or so! In addition to that, we proceeded with this whole process of selling of our property completely remotely. Brad and his team made it very easy and even joyful throughout the process! Thank you so much for all your help! "
- Keiko Davies
" Brad is incredibly skilled in his knowledge of the market conditions and keeping clients appraised of the steps and changes along the way. I was fortunate to have his counsel and was rewarded with more than asking price on my recent home sale. I would not hesitate to recommend him to all parties as he is one of the very best in his field. I only wish he served my new locale; San Diego!" PS - referred him to a friend and she too is selling with Brad! "
- Deborah Ludwig
" The team worked very good to help me and finally I purchased a house with the agent Wajiha. She is a professional real estate agent and have done good job. "
- Simon Jiang
" Wajiha Tareen on the Brad Gill team was so helpful in helping my husband and me purchase a home. Wajiha was very patient with our list of specific criteria, and for taking us to look at various homes. When it came to making an offer, Wajiha was very helpful in getting details for the negotiation, and putting together everything we needed. I would recommend using Wajiha and the Brad Gill team again. "
- J. Michelle Maraj
Previous
Next